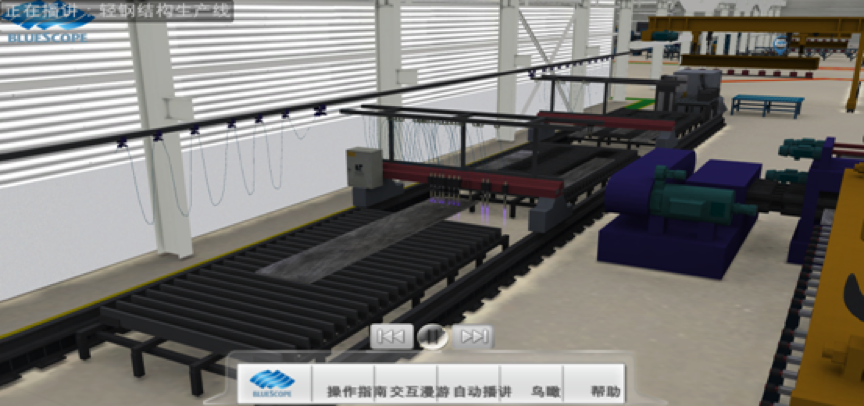 Abstract: Design and deploy the green factory 3D virtual roaming system for BlueScope Steel (Australia).
Project introduction: BlueScope Steel (Australia) - green factory 3D virtual roaming system
This 3D green factory virtual roaming system is designed by kLand Network for BlueScope Steel.
Customer profile: BlueScope Steel (Australia), originating from the steel department of BHP Billiton, a world leading mining giant, got separated from BHP Billiton in March 2001 and listed on the Australian Stock Exchange in July 2002. BlueScope Steel is Australia's largest steelmaker and a world steel giant, which serves as a global leader in providing high quality coatings and color-coated steel products to the construction industry. Its manufacturing bases have covered more than 20 countries and regions, including Australia, New Zealand, the United States and China. BlueScope Buildings (Xi'an) is a limited company invested by BlueScope Steel, whose new factory and R&D center locate in Xi'an High-tech Industrial Development Zone. The new factory and R&D center covers an area of 190 mu (126700 m2) and a building area of 52000m2 and owns a main office building (9000 m2, including the basement), steel workshops and support workshops (43000 m2), with total investment of 64 million U.S. dollars. It is the ninth factory that BlueScope Steel has invest to build in China. Once the formal operation gets started, the BlueScope's factory in Xi'an will have a new type of construction system and R&D production lines, including production line of light and heavy metal structural components and more than ten highly efficient production lines of metal houses and wall panels, whose annual design capacity reaches 120,000 tons with an output value of RMB 1 billion, making it the largest provider of prefabricated metal solutions in central and western China. Wherein, the American design and production system and imported equipment are adopted in all automatic production lines for full-set light-weight steel structures.
Technical contents of the platform: 3D virtual roaming system, energy consumption monitoring system, sand table and exhibition hall automatic control system, as well as mobile App.
Data contents processed by the platform: 3D factory model, factory energy consumption data acquisition, electronic sand table, exhibition hall induction lighting system, projector, sound system, graphic workstation and touch screen.
Customer benefits: The 3D green exhibition system for the BlueScope's factory in Xi'an promotes green building through modern measures and contributes to the leading role of BlueScope brand as the world's largest provider of prefabricated metal structures at the same time. In 2014, the BlueScope's factory in Xi'an won the LEED New Construction Platinum Award and the International Carbon-value Award. In 2015, the factory was awarded the "Luban Prize" for 2014-2015, the highest honor of in the construction project quality in China.
Project pictures: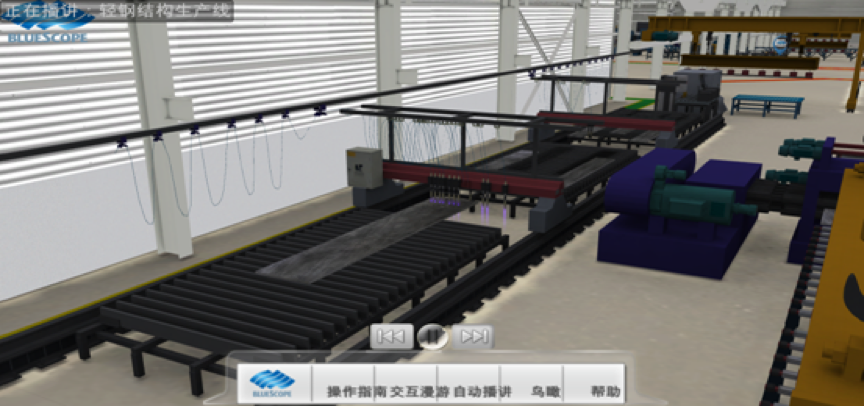 3D virtual roaming scenes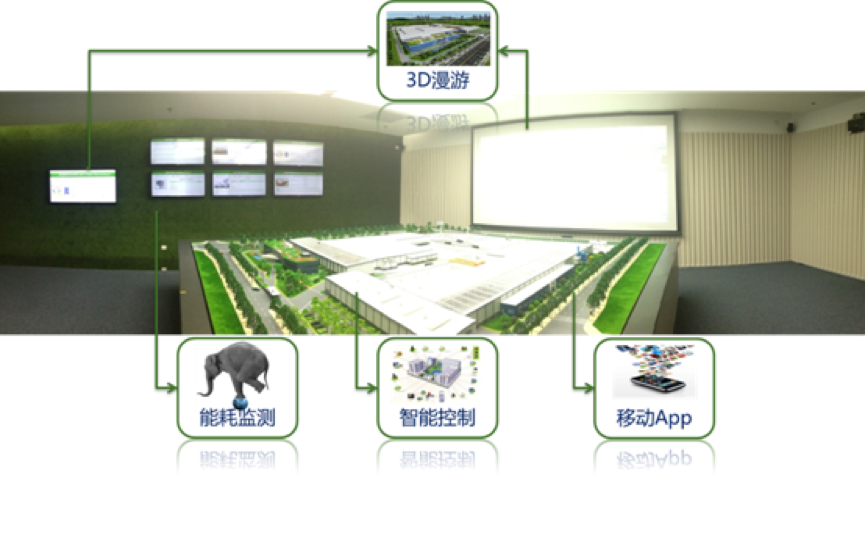 Project site
Keywords: BlueScope Steel (Australia)